Case Studies
Harry Potter Forbidden Forest Experience
Mar 22, 2023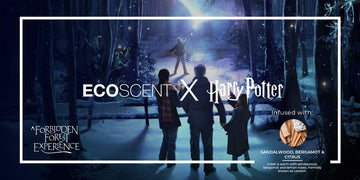 As a premium scenting solutions company specializing in creating bespoke fragrances, EcoScent helps businesses build authentic brand experiences. We help companies engage with their customers on an all new level, using fragrance as a measure of brand marketing.
The latest trend in entertainment is to create bespoke immersive experiences for audiences, which amplify the 'interaction' with the imagined environment. 
EcoScent partnered up with Unify Productions, working closely with Warner Bros to design  and deliver a nighttime trail full of surprises from the Wizarding World of Harry Potter.
Creating a fragrance touchpoint for the visitors the task was to create a smell which could transform the visitors to the fantastical world of Harry Potter. ​Magic, enchantments, incantations with EcoScent's specially formulated scent added a truly immersive experience for the wizards, witches and Muggles™ of all ages and localities.
After extensive research and consultations between EcoScent and the client, Grawp's Burp was created to create a realistic experience for visitors which was then dispersed through the EcoScent scent machines.
The benefits of scent marketing:
it opens up a world of possibilities for the clients

creates strong and positive brand association

generates return traffic

evokes memorable scents

stimulates the right emotions