Safety
It is important to note that the fragrance diffused through EcoScent scent delivery systems is well below the allergy triggers set by OSHA regulations. With a scent effect of less than one particle per million (PPM), the small particle size ensures that it falls far below the allergy threshold for most people, which is over 100 PPM.
As a responsible company, it is our duty to ensure that all of our fragrances are created in compliance with the latest IFRA Guidelines. The International Fragrance Association (IFRA) is the regulatory body of the fragrance industry worldwide, and we create and supply fragrances that are in compliance with the latest European Union Cosmetic Directive, where relevant.
All our fragrances come with Allergen Declaration Certificates that detail their makeup and confirm that they are safe to use. We can also provide the CLP (Classification, Labeling & Packaging) which advises on the safety and handling of the fragrance oil itself.
Both natural and synthetic ingredients face rigorous testing processes, based on scientific evidence and IFRA's deep understanding of how people use fragranced products.
The development of the IFRA Standards is based on a system of long-term collaboration with scientists, medical professionals, public authorities and the industry. For over half a century, IFRA have been partners with the Research Institute for Fragrance Materials (RIFM) who have pioneered work on analyzing fragrance ingredients. RIFM uses cutting-edge expertise to continually review ingredients, based on potential health or environmental effects as well as real-world insights on people's use of fragranced products.

Fragrance safety is of utmost importance and is reviewed by an independent panel of academic experts known as the Expert Panel for Fragrance Safety. They review every RIFM assessment and if they determine that an action is necessary, IFRA issues an amended standard. Our priority is the safety of fragrance materials used, and we achieve this through a dedicated science program that ensures the safety of our clients, their employees, and customers while causing minimal harm to the environment.
Our goal is to provide fragrance oils that have low or no declarable allergens. However, this has become increasingly challenging as most allergens come from natural essential oils.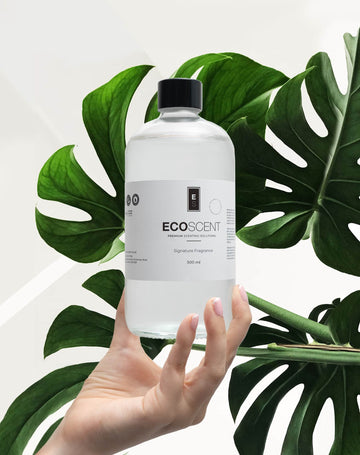 Sustainability
At EcoScent, we are thrilled to share our latest sustainability initiative. As part of our ongoing commitment to environmental responsibility, we have made a significant change in our product packaging. We have transitioned from plastic bottles to clean, eco-friendly glass bottles for delivering our EcoScent fragrances. This transition is a significant step in our journey to reduce our environmental footprint and ensure our products are both luxurious and eco-conscious.

By choosing clean glass bottles, we are not only reducing plastic waste but also providing our customers with a more sustainable and elegant option for their fragrance needs. Our glass bottles are not only visually appealing but also fully recyclable and reusable, contributing to a healthier planet and a brighter future.

This sustainable choice aligns perfectly with our sustainability program, reflecting our commitment to responsible business practices. We aim to continually improve our environmental efforts and set an example for the industry, showcasing that luxury and sustainability can go hand in hand.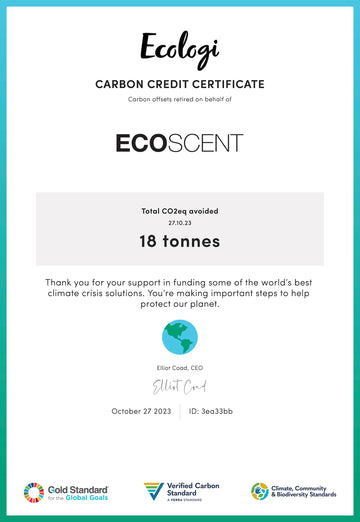 Ecologi's Carbon Credit Certificate
Celebrating Our Commitment to Sustainability
Celebrating Our Commitment to Sustainability: Ecologi's Carbon Credit Certificate

We are delighted to share the latest milestone in our journey towards sustainability. Ecologi has recognised and awarded us our Carbon Credit Certificate, acknowledging our dedicated support in addressing the climate crisis. Through our conscientious efforts, we have successfully avoided releasing 18 tonnes of carbon emissions into the atmosphere.

This achievement signifies our unwavering commitment to mitigating the environmental impact of our operations. By actively participating in carbon offset initiatives, we contribute to the global effort to combat climate change. We believe that every tonne of carbon emissions avoided is a step closer to a more sustainable and resilient future for our planet.

This recognition from Ecologi reinforces our dedication to making a positive impact on the environment. We remain steadfast in our mission to reduce our carbon footprint and inspire others to join us in creating a greener, healthier world for all.