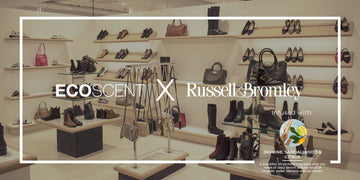 EcoScent partnered with Russell & Bromley to create a bespoke sensory experience for its customers and visitors to its outlets.
With sought-after products, Russell & Bromley has remained synonymous with expert craftsmanship and fashion-led design since 1880. Specialising in luxury shoes and handbags for men and women, the brand continues to be the definitive choice for the well-dressed. 
EcoScent with its extensive range of luxury retail scents provided a specifically tailored scent marketing experience to all the outlets as well as the Head Office of Russell & Bromley.
The fragrance chosen was Jasmine, Sandalwood & Citrus, a subtle yet exotic citrus floral aroma, diffused through our Titania scent machines, with its advanced diffusion technology. The result was a fragrance, both inviting and relaxing in nature to create a perfect shopping experience for the visitors and customers to the retail outlets.
Project Type: Retail |  Project Location: Russell & Bromley UK 
Fragrance: Jasmine, Sandalwood & Citrus
A beautiful citrus floral fragrance with top notes of zesty lemon, a floral heart of Muguet, water Jasmine and Cyclamen, and a rich base of Sandalwood, Vetiver, Amber and Musks.
What are the benefits of Scent Marketing?
Builds up to customers' experience

Reinforces the emotional link that customers create with the brand

The human nose is able to recall smells with 65% accuracy after a year, in contrast to only 50% of visuals after three months resulting in a truly powerful connection with customers

A brand's signature scent can be seen as it's commitment to cleanliness with the intuitive cue of a fresh scent

Bring the experience home. Scented retail products such as bespoke private label candles, room sprays, and amenities further connect retail outlets with guests and increases revenue