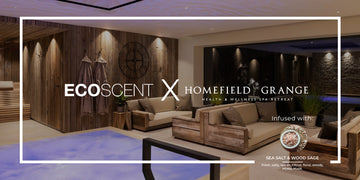 A welcoming 'home away from home' health retreat Homefield Grange is exclusively residential, with fully inclusive packages designed to offer their customers a bespoke health experience away from the world emphasising the importance of self-care.
To create a harmonious experience for their clients, Homefield Grange commissioned bespoke candles by EcoScent with their own exclusive logo.
EcoScent deals in a range of Private Label products like Candles, Reed Diffusers and Room Sprays. These carefully curated and selected fragrances are used at different touch points in various commercial establishments to enhance their customers' experience, create brand loyalty, positive memories and increase footfall. 
The bespoke Private Label candles produced by EcoScent are loved both by Homefield Grange and their clients alike.
Project Type: Hospitality |  Project Location: Homefield Grange
Fragrances:  Sea Salt & Woodsage
Fresh, salty, sea air, Citrus, floral, woody, Mossy, Musk.
What are the benefits of Scent Marketing?
Builds up to customers' experience.

Reinforces the emotional link that customers create with the brand.

The human nose is able to recall smells with 65% accuracy after a year, in contrast to only 50% of visuals after three months resulting in a truly powerful connection with customers.

A brand's signature scent can be seen as it's commitment to cleanliness with the intuitive cue of a fresh scent.

Bring the experience home. Scented retail products such as bespoke private label candles, room sprays, and amenities further connect retail outlets with guests and increase revenue.