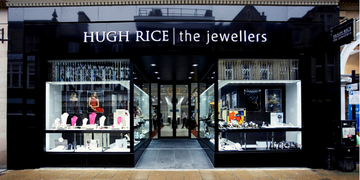 High end luxury jewellers Hugh Rice, a valued and long standing customer offering a personal shopping experience and a great in store shopping environment to their customers. 
The EcoScent Scent Marketing team recommended one of our signature fragrances, Black Tea and Jasmine, the fragrance compliments the Hugh Rice stores with a warm, fresh and ambient feel creating an unforgettable and pleasant experience with the use of our Cold Air diffusion scent delivery machines.
Project Type: Retail | Project Location: UK 
Fragrance: Black Tea & Jasmine – notes of bergamot, clove & thyme, a heart of jasmine & ylang on a base of sandalwood, patchouli, moss, vanilla, cedarwood & musk.
What are the benefits of Scent Marketing?
Adds to customers experience

Increased sales revenue

Enhances brand association

Takes advantage of foot traffic

Inspires returners and loyal regulars

Cancels out unpleasant odours

Attracts customers for longer

Plays on memory

Stimulates the right emotions