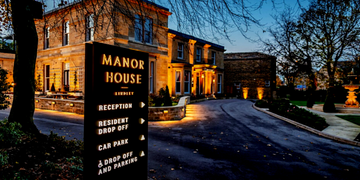 Manor House Lindley is a luxury hotel with two restaurants and three bars. Manor House is set in a stunning Georgian building.  EcoScents signature scents, high fidelity cold air scent diffusion technology seamlessly adds to the customer experience and first class service offered by the hotel.  EcoScent fragrances are diffused throughout the lobby to create a sense of arrival and sophistication.  Guests are greeted by impressive decors, extraordinary architecture and an unforgettable scent experience. EcoScent also helped develop the Manor House Linley Private Label collection, with our Sea Salt & Wood Sage Candles and Black Tea & Jasmine Reed Diffuser and Room Spray. The range was carefully produced to seamlessly fit into the hotel brand and personality of Manor House Lindley.
 Project Type: Hotel & Leisure | Project Location: Lindley, Huddersfield 

Fragrance:
Black Tea & Jasmine – Top notes of bergamot, clove & thyme, a heart of jasmine & ylang on a base of sandalwood, patchouli, moss, vanilla, cedarwood & musk.

Sea Salt & Wood Sage - A warm sophisticated fragrance with sage, grapefruit and bergamot.
What are the benefits of Scent Marketing?
Builds up to customers experience
Private Label can have a significant positive impact in respect of business branding strategy and results in increased brand awareness

Reinforces the emotional link that customers created with the brand

The human nose is able to recall smells with 65% accuracy after a year, in contrast to only 50% of visuals after three months resulting in a truly powerful connection with customers
The power of scent drives loyalty and guests will return to your hotel or leisure venue
Customers will remember your brand by its signature fragrance long after their visit resulting in loyal guests and better online reviews
Your signature scent can be seen as your commitment to cleanliness with the intuitive cue of a fresh scent 
Bring the experience home. Scented retail products such as bespoke private label candles, room sprays, and amenities further connect hotels with guests and increase revenue
Differentiate communal areas by creating an inviting space
A brand's signature scent can be seen as it's commitment to cleanliness with the intuitive cue of a fresh scent 
Using scent to increase the perceived value of your venue giving a luxurious ambient setting 
Cancels out unpleasant odours
Stimulates the right emotions