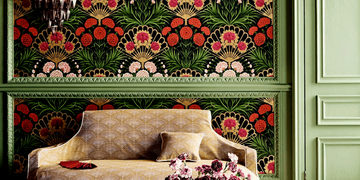 Cole & Son, founded in 1875, stands for authentic and distinguished wallpapers based on British design heritage, widely perceived as a leader in the global wallpaper industry and supplier by Royal Warrants of Appointment to Her Majesty The Queen. 
EcoScent was delighted to create Private Labelling for Cole & Son. Their own luxury room spray was created with an Orange Blossom scent, chosen to celebrate their Seville wallpaper range.  Everything from the fragrance to the packaging had a soul of wallpaper masters Cole & Son.
Project Type: Retail | Project Location: UK | Products: EcoScent Room Spray 200ml
Fragrance: Orange Blossom - Sweet Orange Blossom with a hint of Honey in the base note.
What are the benefits of Scent Marketing?
Adds to customers experience.
Private Label can have a significant positive impact in respect of business branding strategy and result in increased brand awareness.

Reinforcing the emotional link that customers created with the brand.

Increased sales revenue.

Enhances your brand.

Inspires returners and loyal regulars.

Plays on memory.

Stimulates the right emotions.