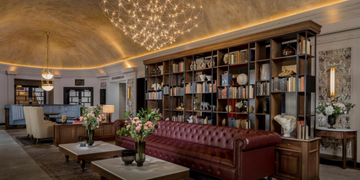 Since 1937 The Queens Hotel has opened their doors in one of the most iconic buildings in Leeds city center. An amazing hotel, that is now part of The QHotels Collection, making sure that their guests are having the most fabulous time no matter if it's an event, business meeting, relaxation stay or just a night out for dinner and cocktails. EcoScent was delighted to work with The Queens Hotel making a direct impact on their guests' initial arrival and throughout their stay. Working closely with The Queens Hotel, the signature scent of Sandalwood, Bergamot & Citrus perfectly compliments the beauty of the hotel and boosts the mood of guests as well as the staff.
 Project Type: Hotel & Leisure | Project Location: Leeds 
Fragrance: Sandalwood, Bergamot & Citrus – Fresh & warm with sandalwood, bergamot and lemon notes.
 What are the benefits of Scent Marketing?
Builds up to a positive customers experience
The human nose is able to recall smells with 65% accuracy after a year, in contrast to only 50% of visuals after three months. Creates a truly powerful connection with guests
The power of scent drives loyalty 
Guests are likely to remember the ambience by its signature fragrance long after their visit. More loyal guests and better online reviews
Your signature scent can be seen as your commitment to cleanliness with the intuitive cue of a fresh scent
Bring the experience home. Scented retail products such as bespoke private label candles, room sprays, and amenities further connect hotels with guests and increase revenue
Using scent to increase the perceived value of your venue giving a luxurious ambient setting
Cancels out unpleasant odors
Stimulates the right emotions