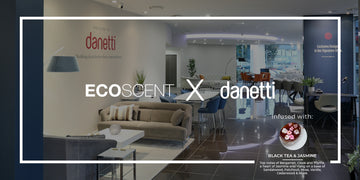 At Danetti the customers and staff are at the forefront of their values. Therefore, introducing a scent that would be warm, inviting and elevating their customer journey was important to Danetti.
It had to match the showroom aesthetics and their extensive offer of modern contemporary furniture. Discussions with the client and the perfumer resulted in creating two perfect fragrances to enhance the ambience and build a strong connection with the brand. 
The scents chosen were warm and inviting Black tea and Jasmine for the showroom and energising Sandalwood & Citrus for the office reception. 
Since the staff at Danetti move in and out of the office reception daily, the scent chosen had to provide an uplifting feeling, giving them a spring in their step and boost productivity. 
The showroom scent worked so well, the customers were asking where they could buy it, so Danetti worked with EcoScent to develop a diffuser which could be purchased alongside their furniture order. 
Project Type: Retail |  Project Location: Danetti  
Fragrance: 
Black Tea & Jasmine
Top notes of Bergamot, Clove and Thyme, a heart of Jasmine and Ylang on a base of Sandalwood, Patchouli, Moss, Vanilla, Cedarwood & Musk.
Jasmine, Sandalwood & Citrus
Fresh & warm with Sandalwood, Bergamot and an alluring aroma of Lemon note giving it a timeless energising core.
What are the benefits of Scent Marketing?
Builds up to customers' experience

Reinforces the emotional link that customers create with the brand

The human nose is able to recall smells with 65% accuracy after a year, in contrast to only 50% of visuals after three months resulting in a truly powerful connection with customers

A brand's signature scent can be seen as it's commitment to cleanliness with the intuitive cue of a fresh scent

Bring the experience home. Scented retail products such as bespoke private label candles, room sprays, and amenities further connect retail outlets with guests and increase revenue