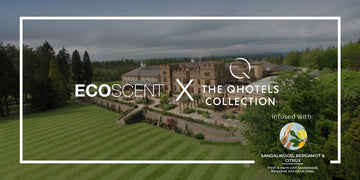 EcoScent was thrilled to work with QHotels to scent the lobby, reception, bar and public bathroom spaces to create a premium scenting solution for their customers.  As a magnificent landmark of hospitality, QHotels Collection offers a fabulous customer service experience for their guests no matter if it is an event, business meeting, relaxation stay or just a night out for dinner and cocktails.

Working closely with QHotels, their signature scent of Sandalwood, Bergamot & Citrus was chosen, which  perfectly compliments the ambience of the hotels and boosts the mood of their guests and staff alike, creating a strong brand association around shared feelings and bonds.
Project Type: Hotel & Leisure | Project Location: QHotels UK Wide |
Fragrance: Sandalwood, Bergamot & Citrus -  Fresh & warm with Sandalwood, Bergamot and Citrus notes.
What are the benefits of Scent Marketing?
Builds up to customer experience

The human nose is able to recall smells with 65% accuracy after a year, in contrast to only 50% of visuals after three months. Creates a truly powerful connection with the customers 

Customers will remember your brand by its signature fragrance long after their visit resulting in loyal customers and better online reviews

Increases the perceived value of your venue giving a luxurious ambient setting