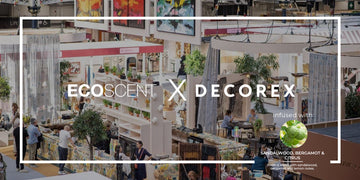 Elevating Decorex's Event Experience with Scent Marketing
Project Details
Project Type: Events
Project Location: London Olympia
Fragrance: Sandalwood, Bergamot, and Citrus
Key Benefits of Scent Marketing for Decorex
Increased Dwell Time:

The strategic use of scents positively impacted engagement.
Resulted in a noticeable increase in dwell time within the exhibition.
Visitors were more inclined to explore various areas, enhancing vendor exposure and interaction.

Positive Feedback:

Attendee feedback during and post-event highlighted the pleasant and refreshing nature of the scents.
The scents were perceived to be in perfect harmony with the Decorex theme, contributing to a positive overall experience.

Brand Recognition:

Decorex's collaboration with EcoScent elevated its brand reputation.
Positioned Decorex as an innovative and experiential event through a multisensory approach.
Distinguished Decorex from other trade fairs, attracting media attention and further establishing its unique identity.
This case study showcases how the implementation of scent marketing not only enhanced the overall atmosphere of the Decorex event but also had a tangible impact on visitor engagement and brand perception.