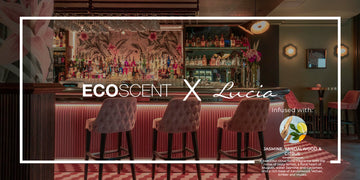 We were delighted to work with Lucia Wine Bar & Grill  - a restaurant known for its show stopping dishes, whether it's just the nibbles or a fancy range of Italian cuisine. The goal was to create a warm and welcoming atmosphere for their guests which complements the culinary aesthetic of the restaurant.
After careful consideration with the client, Jasmine, Sandalwood & Citrus along with Bergamot & Tea was chosen to be diffused through the EcoScent Titania. The result was a relaxed calming environment, enjoyable for both the guests and staff at the venue.
Scent Marketing is introduced to restaurants, bars, retail and many other business settings to enhance the customer experience, build and increase brand loyalty and in turn grow sales revenue. 
Project Type: Bar & Restaurant  | Project Location: York
Fragrances
Jasmine, Sandalwood & Citrus: A beautiful citrus floral fragrance with top notes of zesty lemon, a floral heart of Muguet, water Jasmine and Cyclamen, and a rich base of Sandalwood, Vetiver, Amber and Musks.
Bergamot & Tea: Fresh Bergamot  tea with Jasmine, clean Musk & Amber.
What are the benefits of Scent Marketing?
Builds up the customer experience

The human nose is able to recall smells with 65% accuracy after a year, in contrast to only 50% of visuals after three months. Creates a truly powerful connection with the customers 

Guests remember the brand by its signature fragrance long after their visit resulting in loyal customers and better online reviews

Increases the perceived value of your venue giving a luxurious ambient setting