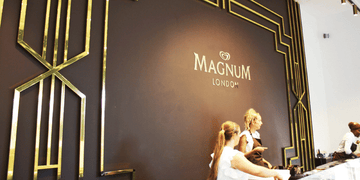 Scent marketing can be a powerful tool to dig your brand's heels into the subconscious by simply selecting a signature scent for your establishment. However, scents can be used in many more ways than just to be pumped into the background.
Working under Unilever, Magnum have opened their 'Pleasure Store' for the sixth year running; this year in Chelsea's Duke of York Square. The sensual experience is described on their website to be "The Ultimate Experience of Magnum Craft and Indulgence".
Along with the world famous dipping station, previously seen in New York, Magnum have arranged a 360 experience for the London store by working with EcoScent to deliver an 'Aroma Station' at this year's pop up.
Customers will be able to draw in the scents of Rose, Cocoa, Vanilla, Praline and Raspberry through our professional scent diffusers housed in timeless Art Deco style funnels.
Everybody has a scent that they associate with comfort or total euphoria – what could be more comforting than the sweet smell of Cocoa and Vanilla? And let's be honest, inhaling these is joy without the calories! Brands with a story are more successful in drawing consumers and the sense of smell conjures a story like nothing else!
Project Type: Events |  Project Location: London, New York, Dubai  |  Products: EcoScent Europa 400
Fragrance: Rose, Cocoa, Vanilla, Praline, Raspberry – Customers Bespoke Creations.
What are the benefits of scent marketing? 
Adds to customers experience.
Create a competitive edge and a better experience for your customers.
The human nose is able to recall smells with 65% accuracy after a year, in contrast to only 50% of visuals after three months.
Create a truly powerful connection with your customers.
Your signature scent can be seen as your commitment to cleanliness with the intuitive cue of a fresh scent.
Ambient scent has the strongest impact when it comes to enhancing consumer behaviours in terms of emotion, evaluation, willingness to return to a store and purchase intention.
Cancels out unpleasant odours.
Stimulates the right emotions.