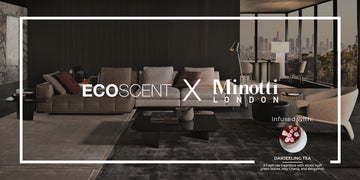 Combining tradition and innovation, Minotti London offers a premium showroom experience matching the service expected of "100% Made in Italy" products. Collaboration with EcoScent therefore meant adding a premium scenting experience to an array of luxury furniture. The fragrance chosen was Darjeeling Tea - a fresh and invigorating scent designed to uplift the mood and atmosphere around the showroom.This was diffused with our specially designed scent machines Luna Pro.  The result was an ambient scented space which worked well both with the male as well as the female clients and complemented the ambiance at Minotti London.
Project Type: Retail |  Project Location: Minotti London
Fragrance: Darjeeling Tea
A fresh tea fragrance with exotic lush green leaves, May Chang, and Bergamot.
What are the benefits of Scent Marketing?
Builds up to customers' experience

Reinforces the emotional link that customers create with the brand

The human nose is able to recall smells with 65% accuracy after a year, in contrast to only 50% of visuals after three months resulting in a truly powerful connection with customers

A brand's signature scent can be seen as it's commitment to cleanliness with the intuitive cue of a fresh scent

Bring the experience home. Scented retail products such as bespoke private label candles, room sprays, and amenities further connect retail outlets with guests and increases revenue