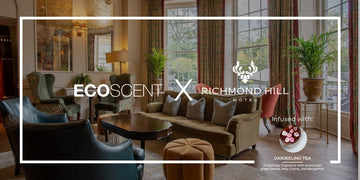 Scents in the hotel lobbies can be favourite nostalgic reminders of a relaxing time. 
Richmond Hill Hotel symbolises luxurious moments and indulging in spectacular dining and expertly crafted cocktails. EcoScent was thrilled to work with Richmond Hill for scenting the restaurant and the reception area. Established in an iconic setting, the idea was for the scent to reflect the local green area by being reminded of how wonderful a breath of fresh air feels. 
EcoScent's signature Sicilian Lemon, Neroli & Pomegranate with its delicate light green and floral notes was selected with its invigorating scent so that the hotel  guests are energised and able to enjoy their stay to the fullest. 
The scent created the desired effect with the guests thoroughly enjoying their time in the memorable setting, whether that is to attend a wedding on site, a paddle board along the river, a trip into central London, a mooch around a gallery, or anything in between.
Project Type: Hotels & Leisure |  Project Location: Richmond Hill Hotel
Fragrance: Sicilian Lemon, Neroli & Pomegranate
Delicate, light green floral with top notes of sicilian lemon blending with a heart of mimosa, neroli, rose, jasmine, geranium, pomegranate, all resting on a base of myrrh, amber, creamy sandalwood, & sensual musks
What are the benefits of Scent Marketing?
Builds up to customers' experience

Reinforces the emotional link that guests create with the venue

The human nose is able to recall smells with 65% accuracy after a year, in contrast to only 50% of visuals after three months resulting in a truly powerful connection with guests

A hotel's signature scent can be seen as it's commitment to cleanliness with the intuitive cue of a fresh scent