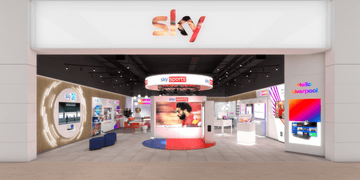 As Europe's leading media and entertainment organisation, Sky ventured into brick and mortar shops all across UK & Ireland. We, at EcoScent were thrilled to come on board to complement Sky stores with their signature scent. Carefully curated Fig Premiere fragrance was chosen to enhance customer experience, boost their mood as well as connect and create positive brand association in customers. 
Our bespoke scent machine Luna was placed at strategic locations across the stores to diffuse Fig Premiere, a green, watery, Fig & Fig leaf fragrance with a woody base , which resulted in creating an ambient environment for shoppers.
Project Type: Retail  |  Project Location: UK  & Ireland – Roll Out  
Fragrance: Fig Premier – A Green, fruity fig & fig leaf fragrance with a woody base.
 What are the benefits of Scent Marketing?
Builds up towards an immersive customers experience
Increases sales revenue
Enhances positive associations with the brand
Takes advantage of foot traffic
Inspires returners and loyal regulars
Attracts customers for longer
Plays on memory
Stimulates the right emotions
Cancels out unpleasant odours