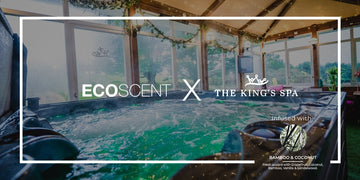 Elevating The King's Spa with Scent Marketing
Project Details
Project Type: Spa
Project Locations: Onchan
Products: Barrel Bluetooth
Fragrance: Bamboo & Coconut
Benefits of Scent Marketing in Hospitality
Relaxation Levels:

Observations revealed a visible shift in clients' demeanor, with many displaying increased relaxation and reduced signs of stress during their spa sessions.
The strategic use of Bamboo & Coconut scents contributed to a tranquil atmosphere, enhancing the overall spa experience.

Ambience Improvement:

The combination of bamboo and coconut scents played a crucial role in immersing clients in a tropical paradise-like setting.
The subtle fragrance uplifted the mood and created a calming atmosphere, contributing to an enhanced ambience throughout the spa.

Positive Word-of-Mouth:

Satisfied customers took to social media platforms to share their experiences, praising the spa's unique aroma and overall ambience.
This positive word-of-mouth promotion proved to be a powerful marketing tool, attracting new clients who were intrigued by the spa's distinctive fragrance and ambiance.
This case study highlights the successful application of scent marketing in The King's Spa, showcasing benefits such as increased relaxation levels, improved ambience, and positive word-of-mouth promotion, ultimately contributing to a more appealing and memorable spa experience featuring the Barrel Bluetooth product.