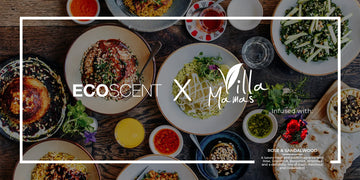 Transforming Hospitality Experiences Across London, Abu Dhabi, Riyadh, and Bahrain with Scent Marketing
Project Details
Project Type: Hospitality
Project Locations: London, Abu Dhabi, Riyadh, Bahrain
Products: EcoScent Ariel, EcoScent Luna Pro, Private Label Room Spray
Fragrance: Rose & Sandalwood
Benefits of Scent Marketing in Hospitality
Positive Customer Feedback:

Villamama's received overwhelmingly positive feedback from customers across all locations.
The calming and elegant notes of Rose & Sandalwood resonated well with diners, enhancing their overall dining experience and contributing to a positive and memorable impression.

Brand Association:

The scent marketing initiative played a pivotal role in creating a distinctive brand association in customers' minds.
The chosen fragrance became synonymous with Villamama's identity, making it more memorable and recognizable among diners, fostering a deeper connection with the restaurant.

Media and PR Attention:

Villamama's innovative approach to creating a unique dining experience through scent marketing garnered significant media and PR attention.
Positive reviews and features in lifestyle and food publications showcased the restaurant's commitment to providing a sensory-rich environment, attracting more attention and interest from potential customers.
This case study demonstrates how Villamama's leveraged scent marketing across multiple locations, successfully achieving benefits such as positive customer feedback, strengthened brand association, and increased media and PR attention, ultimately contributing to a more distinctive and memorable dining experience.