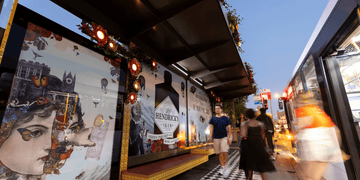 Who doesn't love a delicious glass of Hendricks Gin & tonic during this lovely summer ? EcoScent had the opportunity to collaborate with JCDecaux UK and Hendricks to provide that summer drink feeling for the London & Manchester commuters. By creating a colourful installation on several bus stops that was complimented with a lovely Cucumber & Rose scent. It definitely gave a boost and fresh energy to both locals and visitors of London and Manchester.
Project Type: Events  |  Project Location: London, Manchester |  Products: EcoScent Deimos, EcoScent Europa
Fragrance: Rose & Cucumber – Clients Bespoke Creation
What are the benefits of Scent Marketing?
Adds to customers experience.
Enhanced performance.
Improved environment.
Increase efficiency.
Stimulates the right emotions.
Improve air quality.
Visitors will remember your brand by its signature fragrance long after their visit.
Your signature scent can be seen as your commitment to cleanliness with the intuitive cue of a fresh scent.
Differentiate communal areas by creating an inviting spaces.
Cancels out unpleasant odours.