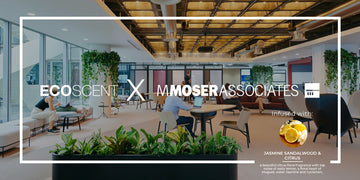 The UK's leading event bringing together the workplace design and interiors industry was the Workspace Design Show held at Business Design Centre on 27th & 28th of February. We at EcoScent partnered up with M Moser Associates to fragrance their booth and bar lounge area.
Revival as the place was called aimed to inspire, restore and recharge the show visitors throughout the day. The scent chosen was Jasmine, Sandalwood & Citrus, a beautiful citrus floral fragrance with top notes of zesty lemon, a floral heart of Muguet, water Jasmine and Cyclamen, and a rich base of Sandalwood, Vetiver, Amber and Musks diffused through our scent system Luna Pro, ideal for creating ambient scenting any business setting.
Project Type: Exhibit  |  Project Location: Business Design Centre, London
Fragrance: Jasmine, Sandalwood & Citrus 
What are the benefits of Scent Marketing?
Builds up to visitors' experience.
Creates a competitive edge and a better experience for visitors.
The human nose is able to recall smells with 65% accuracy after a year, in contrast to only 50% of visuals after three months. Ambient scenting, therefore, creates a truly powerful connection with customers.
A brand's signature scent can be seen as it's commitment to cleanliness with the intuitive cue of a fresh scent.
Ambient scent has the strongest impact when it comes to enhancing consumer behaviours in terms of emotion, evaluation, willingness to return to a store and purchase intention.
Cancels out unpleasant odours.
Stimulates the right emotions.